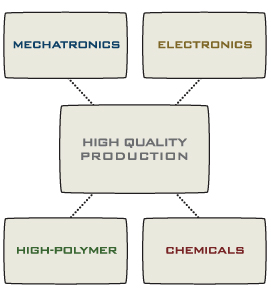 Our obsession with "made in japan" is reflected in each and every one of our production processes and management systems.
WELCO is proud of our overwhelming share of the Japanese market for peristaltic pumps. This makes the background of "Made in Japan" very convincing. Our world-famous "development power", "technical power", and "production management performance"
are the results of WELCO technologies and ideas.
Our best "compounded technologies"
support all product development.
"Compounded technologies" fused by software and new ideas meet the needs of the modern era based on technologies and know-how in the fields of function, chemistry, electronics, etc. WELCO continues to pursue originality and revolutionary ideas that focus on the next generation, as well as to strive rigorously for high quality.
WELCO's qualified developmental power,
which established the One Stop system.
During product development, each of our specialists: electrical, software, mechanical, product design, organic chemistry and production technology, cooperatively implement all processes from product planning to mass production trials using one system. WELCO's advantage is in being able to supply products at reduced cost by responding promptly to customer voices by taking responsibility for everything from planning to trial runs.
After-sales technical support is also provided by trained staff for long-term peace of mind.
WELCO's unique and consistent synchronous production system,
which pursues production efficiency, delivery speed, and quality control.
All production processes are 100% completed in our own factory. Even when various kinds of products in small lots are requested, we can manufacture and deliver so fast it's almost "immediate". Further, by promoting process management, an even more thorough quality control can be achieved. The uniform management system for product information can be achieved by using integrated management of product data, as well as visual inspections of each and every product in the key processes. The infrastructure for implementing all processes in-house from production through quality control is our highly effective weapon, which ensures high quality of our products.
Product planning, development,and prototype test

WELCO implements everything from planning to development, prototype tests, and performance checks based on customer information. We respond to your needs promptly.

Product design by 3D-CAD

3D-CAD is used in the development of configuration design, etc. Highly efficient designs are achieved by mutually sharing tools with cooperating companies such as mold manufacturers.

Performance evaluation design

Mass production prototypes are tested in many aspects such as durability, on the assumption of standard specifications and use environments of products, and further improvements are made based on the results.

Reliability tests

Even after production starts, testing continues, to ensure enhancement of reliability, and to respond to evolving market needs. This is part of our relentless commitment to continuous improvement.