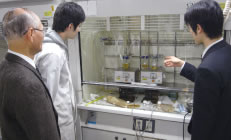 Joint research are incorporated
into the development of next-generation
new technologies and products.
WELCO is situated in the western suburb of Tokyo,
Tama District, where the collaboration with establishments
with unique technologies and with academic institutions
like Tokyo University of Agriculture and Technology,
becomes accessible. WELCO actively invests in people
and in future technologies.
We act and contribute as a responsible member of society.
WELCO aims for coexistence and mutual prosperity with the
community by valuing self-awareness as a link consistent
throughout the community.We pour our energy into contributing to
local society through participation in events and activities.
We contribute to reducing CO2 emissions and to

environmental protection by reducing industrial waste and saving energy.
We also consider our environmental impact as a business that contributes to society.
Total energy consumption is reduced using efficient process designs and by switching to energy-saving
equipment. Further, we are aiming to be an environmentally-friendly company by promoting recycling of
packaging and the use of recyclable materials.